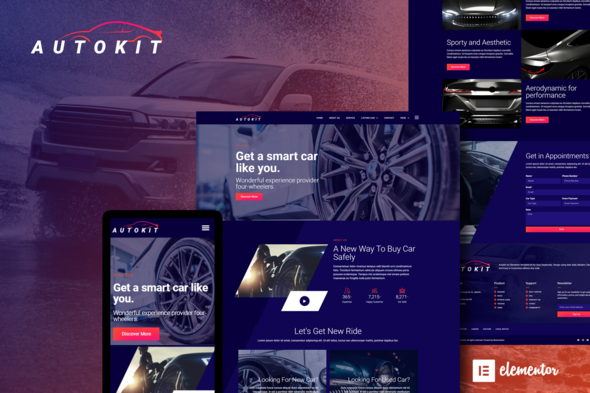 AutoKit is designed for auto dealership and car listing. This cool elementor template kit suitable for any kinds of business and services related to car listing and dealership, car rental, etc. It has 12+ pre-built templates with modern, professional and dark style. Save your time and make professional auto dealership website easily with this elementor template kit.
Layout Features :
Modern and Professional design
Built with Elementor Pro
100% Responsive & mobile-friendly
12+ pre-built templates
Easy to customize
Template kit built with Elementor Hello Theme
This kit requires the Elementor Pro upgrade for some templates and features.
What's Included in the Zip :
Homepage
About Us
Archive
Error 404
Menu Slide
Single Post
Blog
Contact Us
Detail Car
Financing
Listing Car
Services
Team
How to Install:
Install and Activate the "Envato Elements" plugin from Plugins > Add New in WordPress
Do not unzip
Go to Elements > Installed Kits and click the Upload Template Kit button.
Before importing a template, ensure the Install Requirements button is clicked to activate required plugins
For best results, do not import more than one template at a time.
Detailed Guide: https://help.market.envato.com/hc/en-us/articles/900000842846-How-to-use-the-Envato-Elements-WordPress-Plugin-v2-0
For further support, go to Elementor > Get Help in WordPress menu.
This Template Kit uses demo images from Envato Elements. You will need to license these images from Envato Elements to use them on your website, or you can substitute them with your own.
https://elements.envato.com/image-PGUQ7F2
https://elements.envato.com/image-5RHA8BB
https://elements.envato.com/image-FAMCNJ2
https://elements.envato.com/image-XPGT2WA
https://elements.envato.com/image-PT2TMJD
https://elements.envato.com/image-D2Z9K3V
https://elements.envato.com/image-PXMSKQC
https://elements.envato.com/image-P5GMBEH
https://elements.envato.com/image-PBKFF76
https://elements.envato.com/image-PRNY84C
https://elements.envato.com/image-PVVDL3Z
https://elements.envato.com/image-PHS3ZD7
https://elements.envato.com/image-PTBYD5U
https://elements.envato.com/image-9WR6HE3
https://elements.envato.com/image-7EQQMQV
https://elements.envato.com/image-JTXKJWM
https://elements.envato.com/image-FDNUADJ
https://elements.envato.com/image-5D32V2G
https://elements.envato.com/image-8VN7EBE
https://elements.envato.com/image-A4EC4DU
https://elements.envato.com/image-TDBYAUT
https://elements.envato.com/image-P6B7AU8
https://elements.envato.com/image-5VHX8YA
https://elements.envato.com/image-PU575AD
https://elements.envato.com/image-GHGLBZ5
https://elements.envato.com/image-KNXSVEG
https://elements.envato.com/image-PDQCEYG
https://elements.envato.com/image-PRHB8QE
https://elements.envato.com/image-PZ2QSBR
https://elements.envato.com/image-PNHLE52
https://elements.envato.com/image-SE2BGLR
https://elements.envato.com/image-AZXHYUD
https://elements.envato.com/image-6Y6Z7WB
https://elements.envato.com/image-LZWHCTN
https://elements.envato.com/image-54GY3F2
https://elements.envato.com/image-QBX4Z67
https://elements.envato.com/image-29XJEZD
https://elements.envato.com/image-BVK579X
https://elements.envato.com/image-KCFHCFW
https://elements.envato.com/image-4PMLJJ7
https://elements.envato.com/image-DP8J7QT
https://elements.envato.com/image-QH9AW4Z
https://elements.envato.com/image-U6D5EWC
https://elements.envato.com/image-C3ADQWV
https://elements.envato.com/car-logo-template-9PLF3B
https://elements.envato.com/image-QPWAJHS
https://elements.envato.com/image-PRZ9BHF