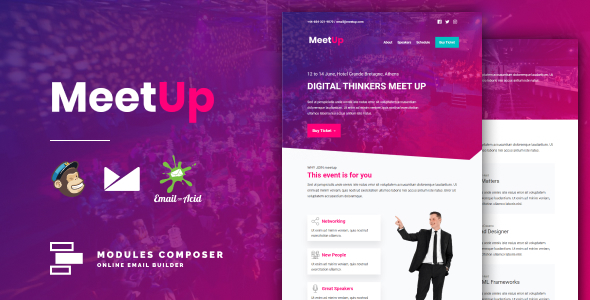 Meetup – Responsive Email for Events & Conferences
Welcome to 'Meetup', a dynamic and responsive email template purpose-built for events and conferences. Designed to capture the excitement and professionalism inherent in these gatherings, Meetup is your ticket to engaging, memorable, and impactful email communication.
Fully compatible with leading email marketing platforms like Mailchimp and Campaign Monitor, Meetup ensures that your messaging comes through loud and clear, irrespective of the platform used. Moreover, with compatibility across all major email clients including Outlook and Gmail, rest assured that your emails will always appear exactly as you intended them to.
In today's mobile-first world, having a responsive email design is not just an advantage, it's a necessity. Meetup excels in this regard. Its fully responsive design ensures that your emails display impeccably on any device – from desktops to smartphones and tablets, maintaining the attention of your audience and driving engagement.
Included Files:
– Standalone HTML version
– Mailchimp version
– Campaign Monitor version
Ease of customization is key when it comes to designing your perfect email. With Meetup's compatibility with Modules Composer – Online Email Builder, you can preview your design as you create, ensuring it aligns perfectly with your vision and goals.
Please Note:
– Web font support in email is limited.
– Images used in the demo are not included in the download.
– Non-Google address connected through POP/IMAP on GANGA ("Gmail Android App for Non-Gmail Accounts") responsive support is pending rollout. For updates, please visit: [Litmus Live Ticker](https://litmus.com/blog/gmail-to-support-responsive-email-design)
– Access to Modules Composer is not included in the purchase and is used only for preview reasons.
Images & Icons
All of our images and icons are sourced from premier photography and web design sites such as Pexels, Unsplash, and Iconfinder. This ensures a high-quality aesthetic appeal that resonates with your target audience.
Make a statement at your next event or conference with 'Meetup'. Designed with both form and function in mind, Meetup sets the stage for unforgettable email communications that not only inform but also inspire.