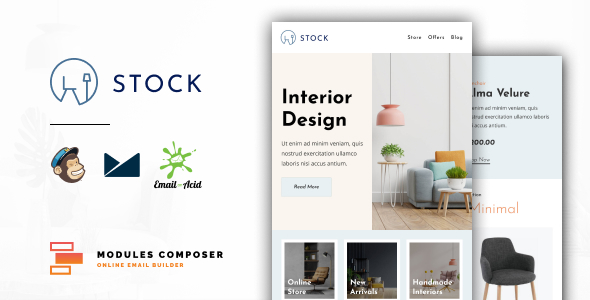 Stock – E-Commerce Responsive Furniture and Stock design Email
Meet "Stock – E-Commerce Responsive Furniture and Stock design Email", a meticulously designed email template that showcases your furniture and Stock design items in a breathtaking display. It's perfect for businesses that sell furniture or offer Stock design services, allowing them to create visually captivating email campaigns that engage their audience and inspire them to shop.
Stock has been created with a strong focus on aesthetics, elegance, and practicality. It helps you communicate your unique style and sophisticated taste to your subscribers, while its user-friendly interface encourages interaction and conversions.
This template is fully responsive, ensuring your designs are showcased beautifully on all types of devices – from desktops to mobile devices. This guarantees a pleasant viewing experience for your audience, regardless of the device they use.
For versatility and ease of use, Stock is compatible with almost all email marketing platforms including Mailchimp and Campaign Monitor. Furthermore, it works seamlessly with all major email clients such as Outlook and Gmail, so your stunning designs reach the maximum possible audience.
To provide you with more flexibility, Stock is also compatible with Modules Composer – Online Email Builder, which allows you to build and customize your emails with ease. However, please note that access to Modules Composer is not included in the purchase and is used only for preview purposes. More information about Modules Composer can be found [here](https://www.psd2newsletters.com/modules-composer/).
When you purchase the Stock template, you will receive the Standalone HTML version, the Mailchimp version, and the Campaign Monitor version. Please note that web font support in email is limited, and the images used in the demo are not included in the download.
Also, for users utilizing the GANGA ("Gmail Android App for Non-Gmail Accounts", i.e., non-Google addresses connected through POP/IMAP), responsive support is currently pending rollout. Stay updated by checking the live ticker from Litmus [here](https://litmus.com/blog/gmail-to-support-responsive-email-design).
To further enhance your emails, photos and icons from renowned photography and web design sites such as Pexels, Unsplash, and Iconfinder can be integrated.
With "Stock – E-Commerce Responsive Furniture and Stock design Email", you can ensure your audience is always engaged, your designs are always shown in the best light, and your conversion rates continue to grow.