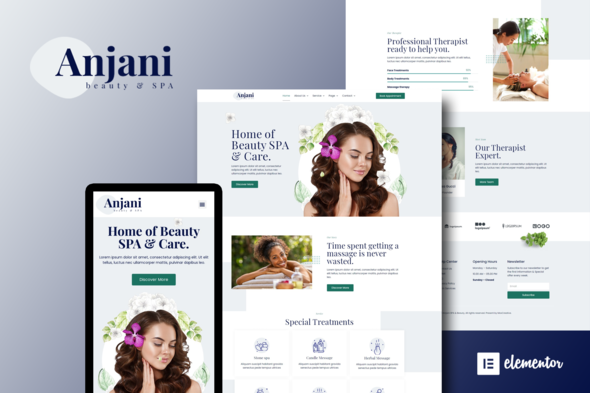 Anjani is elementor template kit for spa and beauty salon business. It has 12 pre-built templates with cool design and awesome style. You can easily start and build your spa and beauty website with this elementor template kit.
Layout Features :
Modern and Professional design
Built with Elementor Pro
100% Responsive & mobile-friendly
12 pre-built templates
Easy to customize
Template kit built with Elementor Hello Theme
This kit requires the Elementor Pro upgrade for some templates and features.
What's Included:
Homepage
About Us
Blog
Archive
Contact
Error 404
Pricing
Service
Service Detail
Team
Single Post
FAQ
How to Install :
Install and Activate the "Envato Elements" plugin from Plugins > Add New in WordPress
Do not unzip
Go to Elements > Installed Kits and click the Upload Template Kit button.
Before importing a template, ensure the Install Requirements button is clicked to activate required plugins
For best results, do not import more than one template at a time.
This Template Kit uses demo images from Envato Elements. You will need to license these images from Envato Elements to use them on your website, or you can substitute them with your own.
https://elements.envato.com/image-YD9JSUW
https://elements.envato.com/image-PPXCDEA
https://elements.envato.com/image-PZA3MRU
https://elements.envato.com/image-UX5YRG7
https://elements.envato.com/image-PNAMXKK
https://elements.envato.com/image-Z3URVZ4
https://elements.envato.com/image-XL5CCAF
https://elements.envato.com/image-PPDAHAM
https://elements.envato.com/image-TNJHWZA
https://elements.envato.com/image-86875FN
https://elements.envato.com/image-PT3XMDZ
https://elements.envato.com/curly-brunette-woman-with-flower-in-hair-young-gir-T2U8J3R
https://elements.envato.com/image-9Z82UDW
https://elements.envato.com/spa-icon-pack-8E62SVE
https://elements.envato.com/image-RG24HZP
https://elements.envato.com/image-T5JCZKU
https://elements.envato.com/image-5X87T5K
https://elements.envato.com/image-9YWMWBT
https://elements.envato.com/image-P6YU9ZH
https://elements.envato.com/image-7C9K3DG
https://elements.envato.com/image-8DN9GN4
https://elements.envato.com/image-R8A44UJ
https://elements.envato.com/image-XDRZ56C
https://elements.envato.com/image-PMPP77S
https://elements.envato.com/image-PJGLJEV
https://elements.envato.com/image-QXMYTJ8
https://elements.envato.com/image-QSEYRCX
https://elements.envato.com/image-7WAVZY9
https://elements.envato.com/image-TWRLC9H
https://elements.envato.com/image-ASJGHNE
https://elements.envato.com/image-TLZXQLG
https://elements.envato.com/image-FTW6BWD
https://elements.envato.com/image-P8RDHM6
https://elements.envato.com/image-H2WJ5AS
https://elements.envato.com/image-63PU3NM