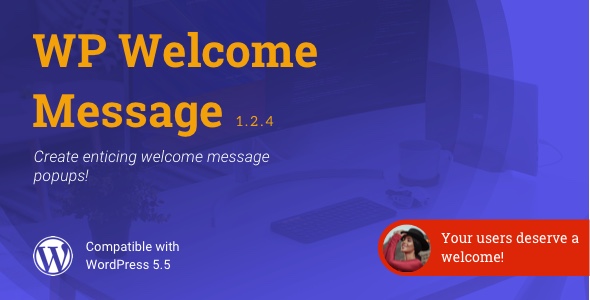 Why the price is high?
Hi, my name is Hamid Reza Sepehr and I am a developer in Kabul, Afghanistan. As you may know our country is in a very critical situation, Taliban terrorist group have captured more than half of the country, and I am stuck in Kabul. I need to leave the country as soon as possible. I have no other income source so I need to sell this plugin in order to earn enough to get me and my family to a safe place. Please if you are capable purchase my item, I really need that.

Also note that I may not be able to provide regular support as I used to do before.

Thank you so much.
Make a unique user experience via enticing welcome messages!
WP Welcome Message | WordPress Popup Message Plugin is a powerful WordPress plugin that lets you create enticing and potential welcome messages in the form of popup. There are plenty of pre-designed layouts to choose from and even customize it for your needs. The plugin offers you the options to select where, when and how should the popup message appear on page. Clean code, great documentation, device responsive, fast performance and more features empower this plugin.
If you are experiencing any difficulty or issue with this plugin, don't hesitate to contact the author. We will keep regularly updating the plugin, fixing issues and adding new features base upon user's feedback.
Options:
Select Layouts
Content Update
Auto Show
Auto Close
Animation In
Animation Out
Click to Close
Title Colors
Body Colors
Backgorund Colors
Upload Image
Message Location
Width
Show on Page
Features:
Trending on Web
Fast Performance
Customizable
Documented
Futute Updates
Customer Support
Refund Requests
Compatible with WordPress 5.4
Compatible with All Themes & Plugins
Cross-Platform
Cross-Browser
Note:
Images on demo are NOT included in the package.
== Changelog ==

20 October 2020 - Ver 1.2.4
* Fixed: Escaped HTML Code on Front

12 October 2020 - Ver 1.2.3
* Fixed: Removed generated extra backslashes from the editor

26 September 2020 - Ver 1.2.2
* Fixed: Page Activation Issue

5 July 2020 - ver 1.2.0
* Fixed: Edit Message Bugs

9 June 2020 - ver 1.1.0
* Added: Message Edit Screen
* Fixed: HTML Tag Escape Issue